I'll admit: I love making list. I make lists of things I need to do, books I still want to read, movies I still want to see, themed parties I still want to plan... But most of all I love making lists of the books that I've read. Top 10 Tuesday/Top 10 Thursday/ Similar memes with different names have always been one of my favorite features on blogs of others, and they are the posts that I am most likely to read. I think it's just a great way to be introduced to new books because very often I will add one of the books mentioned to my to read list. I don't really want to have to plan a post for a certain day every week but I do want to make booklists, so what I'll be doing will be more of a
Top 10 Every Now and Then
.
Today I'm making a list of my top 10 books from childhood. Since I'm Dutch I obviously read books that where in Dutch when I was young. Therefore a lot of titles are by Dutch authors and might not even have been translated, but there are also some books that will be familiar to almost everyone. Narrowing it down was hard because I read so many amazing books during my childhood!
1. The Harry Potter Series by J.K. Rowling
Just at many others I have the Harry Potter series on my list of favorite childhood books. There have never been books that made me want to live in the book's fictional world more. I don't easily cry over books, but this series defenitely has made me cry a couple of times. The characters are so vivid and although they live in a fictitious world it feels very real.
2. How to become king (Koning van Katoren) by Jan Terlouw
This is a book by a Dutch author. My mom used to read it to me when I was young and later on I read it myself many times. Apparently it has been translated into English quite some years ago. The story is about a boy who was born on the same day the king of his country died. The country is from then on ruled by 6 not-so-nice ministers who claim they are searching for a new king. Nothing seems to happen, and when the maincharacter is 17 years old he asks the ministers how he can become king. The ministers then give him seven almost impossible tasks which he will need to fullfill in order to become king.
3.
The Letter for the king (De brief voor de koning) by Tonke Dragt
This book was translated from Dutch to English last year, which makes me so happy! Although this story was first published many years ago (my mom already read it whe she was young) it is one of those stories that will remain to appeal to kids. It is a fantasy story about knights and it is very much about finding out yourself what is the right thing to do.
4. The Secret Garden by Frances Hodgson Burnett
This one is a classic. I think many people have read this books as a child. This is probably the one book from my childhood that I read the most. All the charachters where very intriguing and I always love how the story focused on nature. This books definitely made me go outside a lot more.
5. De macht van het zwaard (The power of the sword) by Anne West
This fantasy book is by a Dutch author and has not been translated as far as I know. The version of the story I have is split up in two seperate books. I remember that I was so impatient to get the next book when I finished the first. I absolutely loved this book because there where so many different creatures and so many different countries the maincharacter travelled through.
6. The children of Noisy Village (Barnen i Bullerbyn) by Astrid Lindgren
I read this book at school for the first time and was so happy when I got a copy myself! I read this one many times. It is about 6 children who are all neighbours on the Swedish countryside and the things they experience. It was a great introduction to Swedish life and it's probably what caused me to have such a love for the country.
7. Achtste groepers huilen niet ('6th-graders don't cry') by Jacques Vriens
This book is another one by a Dutch author and also as far as I know not translated into English, which I think is really sad because it's beautiful. The book follows the story of a young girl named Akkie, who has leukemia. What I loved so much about this book, was that it did not only deal with the struggles Akkie had fighting cancer but it also focused on her classmates and how they all dealt with the fact that one of their classmates was terminally ill. This book made me cry every time I read it.
8. Malory Towers series
I actually only read the 3th and 4th book of this series, but I absolutely loved them. The books were my mom's and I never came across the other books in the series, so I just read those. What these books have in common with the Harry Potter series is the fact that the setting is a boarding school in England. Stories about boarding schools somehow always appealed to me.
9. Ruiters van Glaas (De Riders of Glaas) by Rom Molemaker
This book is the first of a Dutch fantsy trilogy of which the books can be read seperately. The book is not translated into English. The main character finds a door in the forest and once he goes through it he enters an entirely different country. The book is very adventurous and I'm surprised that even in the Netherlands there are very few people who know it. A classmate of mine did a presentation about it in 5th grade. It sounded so good that immediately afterwards I bought the book and it has been one of my favorites eversince.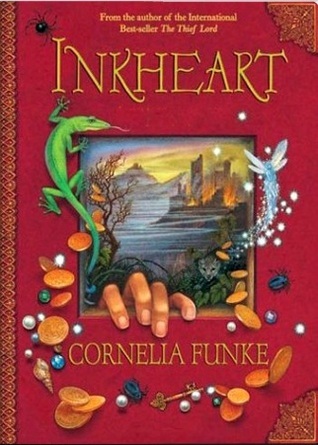 10. Inkheart (Tintenherz) by Cornelia Funke
This is a book for booklovers. The maincharacter loves books, her father repairs them and they go and stay with her aunt who has an amazing library. Then it turns out characters from a certain book have come to life!
Each chapter of this book starts with a quote from another book and every time I read Inkheart I promised myself that one day I would read all the books mentioned. There are 2 sequels to this book but somehow I never ended up reading those although I read the first book many times.
What books were your favorites when you were a child?