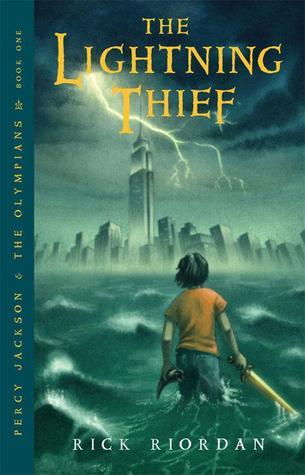 Percy Jackson and the Olympians #1
Genre: fantasy, middle grade
Pages: 377
Rating: 4,5/5
Goodreads
Summary
Percy Jackson is about to be kicked out of boarding school... again. And that's the least of his troubles. Lately, mythological monsters and the gods of Mount Olympus seem to be walking straight out of the pages of Percy's Greek mythology textbook and into his life. And worse, he's angered a few of them. Zeus' master lightning bolt has been stolen, and Percy is the prime suspect.

Now Percy and his friends have just ten days to find and return Zeus' stolen property and bring peace to a warring Mount Olympus. But to succeed on his quest, Percy will have to do more than catch the true thief: he must come to terms with the father who abandoned him; solve the riddle of the Oracle, which warns him of betrayal by a friend; and unravel a treachery more powerful than the gods themselves.
My thoughts
I've read this book before, but it has been a while. The first time I read it I believe I liked it, but didn't think it was amazing. Maybe it just wasn't the right timing, because now that I read it again I absolutely loved it! The story is full of action and Percy is a very likeable main character. He is bold and funny and I absolutely loved the great relationship he had with his mom. I've read so many books (especially young adult) where the child-parent relationship is not a happy one, so it's always refreshing when that is not the case. Also the relationship between Percy and Chiron was a great student - master relationship.
The book is very fast paced and most of the time I really appreciated that, because there is not a dull moment in the whole book, but some events could have been explained a little bit better. That is about my only remark on this book.
I love mythology and I really appreciated how it was included in the story. There are quite some explanations, but it is done in a very nice way and was never annoying. The world that Riordan created is a very fascinating one and I can't wait to meet some of the other greek gods.
I will definitely be reading the other books in the series, because I can't wait to see how it will evolve.
The whole time reading this I had a smile on my face, it's been a while since I read a book that I enjoyed this much!