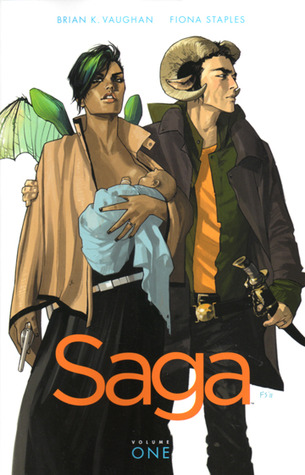 Genre: comics, fantasy, science fiction
Pages:
Rating: 5/5
Goodreads
Summary
Saga is the sweeping tale of one young family fighting to find their place in the universe. When two soldiers from opposite sides of a never-ending galactic war fall in love, they risk everything to bring a fragile new life into a dangerous old world. Fantasy and science fiction are wed like never before in the first volume of this sexy, subversive ongoing epic.
My thoughts
I've been wanting to read more comics for a while now, but I never really had an idea where to start. I heard many great things about Saga so I decided to give it a go and I am glad I did because I absolutely loved it! The artwork is beautiful. I love the colors, they fit all the different planets and places very well. I also really liked the unique clothes one of the main characters Alana is wearing.
Alana and Marko are both great characters. Alana is a very strong woman who doesn't take no for an answer. She is willing to do anything for her daughter Hazel. Marko seems to be more sensitive, but he really sees it as his duty to protect his family and to be there for them. I like Alana and Marko as a couple because they are both very strong people and in their relationship they really seem to be equals.
We also experience some parts of the story from the viewpoint of the people chasing Alana, Marko and Hazel. I mostly enjoyed reading about the freelancer The Will. The author did a great job of not making him just another villain but also giving some insight into why he does the things he does.
I don't read a lot of books about parents, so this was a pretty unique read for me. Also the different cultures Alana and Marko are from where an interesting aspect.
I'm already hooked on this series and hopefully I'll get to the next volume soon!