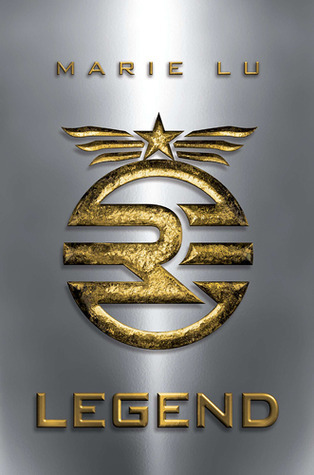 Genre: dystopian, science fiction, young adult, romance
Pages: 305
Rating: 3.5/5
Goodreads
Summary
What was once the western United States is now home to the Republic, a notation perpetually at war with its neighbors. Born into an elite family in one of the Republic's wealthiest districts, fifteen-year-old June is a prodigy being groomed for success in the Republic's highest military circles. Born into the slums, fifteen-year-old Day is the country's most wanted criminal. But his motives may not be as malicious as they seem.
From very different worlds, Juna an Day have no reason to cross paths - until the day June's brother, Metias, is murdered and Day becomes the prime suspect. Caught in the ultimate game of cat and mouse, Day is in a race for his family's survival, while June seeks to avenge Metias's death. But in a shocking turn of events, the two uncover the truth of what has really brought them together, and the sinister lenghts their country will go to keep its secrets.
My thoughts
My friend Suzan has been recommending me to read this book since forever and I finally got around to it. It is hard to not compare a book like this to the Hunger Games or Divergent, but eventhough I still think those two books are better, I really enjoyed reading Legend. The chapters of the book alternate between Day and June's point of view and I thought that was a good way of getting to know the different layers of the society of the Republic of America. I did not like June that much at the beginning of the book, but as the story progressed she grew on me a little. In the beginning I found it a little annoying that she was so naive, but she certainly got to see a different side to the 'perfect society' she lived in. Eventhough I related more to Day than to June I still enjoyed reading June's chapters. June's memories of her brother Metias increased my curiosity about Metias and it would have been interesting to learn a little more about his experiences in the army.
From the beginning of the book it was obvious what romance there was going to be. there was definitely insta-love in this book, but I liked that all the bumps in the road made it a lot harder for an actual relationship to develop. I'm really not a big fan of insta-love, and that was probably the reason I wasn't really invested in the romance.
This book contains a mystery that gets unraveled. I do like mysteries, but in this case I didn't think the clues were really obvious enough for the characters to draw a certain conclusion.
Except for June, there wasn't a lot of character growth in this book, but I did really like how my view of Metias's killer changed so much throughout the book, that person really creeped me out at the end!
Day's companion Tess was a sweet girl and I thought her addition to the story was a great way of showing what kind of person Day was.
What I loved the most about this book, was that there wasn't just a character who fought the system from within, but the country was actually also at war with another country. Often in dystopians it seems that besides the country the story is set in, there isn't anything out there, which is not very realistic. In this case I really got the feeling like the Republic of America was part of a larger world.
The book ended rather abruptly, and this somehow made it a little difficult to gather my thoughts on it. I didn't feel like I immediately had to read the sequel, but after giving it a few days I got more excited to read on.