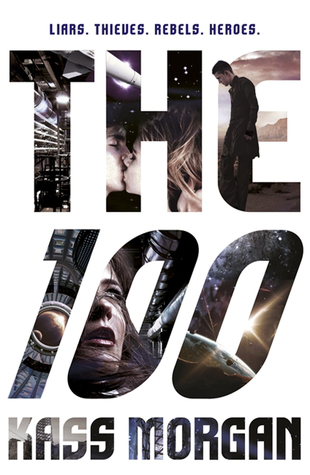 Genre: young adult, science fiction
Pages: 336
Rating: 3,5/5 stars
Goodreads
Summary
No one has set foot on Earth in centuries -- until now.

Ever since a devastating nuclear war, humanity has lived on spaceships far above Earth's radioactive surface. Now, one hundred juvenile delinquents -- considered expendable by society -- are being sent on a dangerous mission: to recolonize the planet. It could be their second chance at life...or it could be a suicide mission.

CLARKE was arrested for treason, though she's haunted by the memory of what she really did. WELLS, the chancellor's son, came to Earth for the girl he loves -- but will she ever forgive him? Reckless BELLAMY fought his way onto the transport pod to protect his sister, the other half of the only pair of siblings in the universe. And GLASS managed to escape back onto the ship, only to find that life there is just as dangerous as she feared it would be on Earth.

Confronted with a savage land and haunted by secrets from their pasts, the hundred must fight to survive. They were never meant to be heroes, but they may be mankind's last hope.
My thoughts
Last year I started watching the tv series The 100 that is based on this book. I really enjoyed it and when I realised it was also a book I knew I wanted to read it. Going in I already knew it was quite different from the tv series, but in this case it didn't bother me. Some characters that are in the tv series do not exist in the book and also one of the main characters of the book is not in the tv series. Every chapter of the book was written from a different perspective, alternating between Clarke, Wells, Bellamy and Glass. I like how Morgan used Glass to show what life on the ship was like, but I would have loved to see more of that. I did really enjoy this book while I was reading it, but at the same time I realised I didn't think it was a great book. I thought the book would focus more on how the kids had to survive on earth and the group dynamics, but instead it was more of a romance with a lot of high school drama.
From the beginning of the story Clarke seemed like a strong person, on the contrary to the beginning of the tv series. I liked her in the beginning, but at the end I thought she was just 'okay' because of all her boy drama.
Througout the book you slowly discover why all of the characters were in prison, and this was the most interesting part of the book. When I discovered some of the things Wells had done however, I was really annoyed with him. He thought that just because he wanted to save a girl he loved, who could perfectly take care of herself, he should just endanger what is left of the entire human race. For me he was not relatable at all.
The language used in this book is quite simplistic which made it a very quick read. There doesn't seem to be a central plotline that is resolved at the end of the book. The book seems more of a build-up for future books. The ending was rather dissapointing. Although some discoveries are made they are sudden and there was no build up towards them what so ever. I get the feeling like the author thinks this is a 'cliff hanger', but it's really not. The book felt just incomplete and it did not make me especially excited to read the next book. Eventhough it was a pleasant read, I am not sure yet if I wil continue with this series.